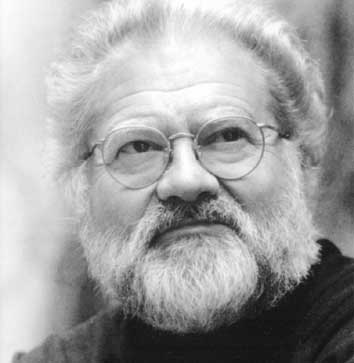 Just a fun little factoid post tonight.
Ever heard of
Pierre Henry
?
(He looks intense --->)
From his
wiki
:
(born December 9, 1927 in Paris, France) is a French composer, considered a pioneer of the musique concrète genre of electronic music.

Between 1949 and 1958, Henry worked at the Club d'Essai studio at RTF, founded by Pierre Schaeffer. During this period, he wrote the 1950 piece Symphonie pour un homme seul, in cooperation with Schaeffer; he also composed the first musique concrète to appear in a commercial film, the 1952 short film Astrologie ou le miroir de la vie. Henry has scored numerous additional films and ballets. Among Henry's best known works is the experimental 1967 album Messe pour le temps présent, one of several cooperations with choreographer Maurice Béjart featuring the popular track "Psyche Rock".

Perhaps one of Henry's most well-known influences on contemporary popular culture is to the theme song of the TV series Futurama. The tune is inspired by Henry's 1967 song "Psyché Rock."

Ceremony (1969) (in collaboration with English band Spooky Tooth)

In 1997, Fatboy Slim issued a remix of Psyche Rock.
Sounds like a pretty cool guy!
Here's his vid from 1967:
Here's the Futurama theme composed by
Christopher Tyng
(with four seasons of their title card jokes, so dont listen to the
whole
thing I guess...):
And here's Fatboy Slim's remix:
ENJOY!